Film Israeli en el festival de Cine de Guanajuato
https://www.youtube.com/watch?v=sl9B_odqJnc&feature=youtu.be
La Cineasta israelí Ma'ayan Rypp participó en el Festival Internacional de Cine de Guanajauto - GIFF -
Con Martha debe Volar conquista al público de México y el mundo al identificarse con los deseos de volar y ser libres, de irse a otro lado para liberarse o vivir mejor, Una Historia muy semejante a la de muchas personas en el Mundo, asi como a los Mexicanos que cruzan la frontera de nuestro pais vecino o aquellos en Sudamerica, Europa, Asia que buscan desesperadamente "volar"
Pero los derechos humanos expuestos en su cinematografia conmueven, el drama te impacta, desde Chile hasta China
Cada público lo ve diferente, ademas de Martha Must Fly , Maayan nos platica de lo que significa la pérdida de un ser querido,como se siente y como se acepta o se vive acongojado por ello en su film The Other Widow
https://www.youtube.com/watch?v=V_uLo_DV_hg
https://www.youtube.com/watch?v=kMuBjJe16ss
Pero no solo es Drama el arte de Maayan también hace videos de Moda pero con su toque en especial
Un Israel  diferente, multifacético, lleno de arte y cultura y Maayan es una excelente representante de esta imagen de un país que es mucho mas que un conflicto. Para Maayan  l
a cultura es el mejor Puente de Amistad entre los países, muestra de ello es que viene de u
n país donde realmente Israelíes tanto Judíos como Árabes  viven juntos, conviven y trabajan mano a mano.
Esta es la visión de un Israel Moderno que lleva fuera de sus fronteras una cinematografía intrépida y vanguardista que llegó hasta México donde tanto el Film como Maayan fueron magníficamente recibidas
Quien es Maayan Rypp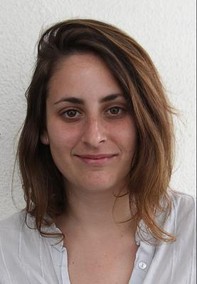 Del 29 de julio al 3 de agosto, la joven cineasta israelí Maayan Rypp participó como invitada en el GIFF – Festival Internacional de Cine de Guanajuato. El Arte y el Cine siempre han jugado un rol preponderante en la vida de Ma'ayan Rypp.  Estudió Dirección de Arte en Nueva York y Licenciatura en Dirección de Cine y TV en la Universidad de Tel Aviv.
Antes de que la tinta de su diploma se secara, su película "Al Martha Lauf"- ("Martha debe volar") fue proyectada en el Festival de Cine de Cannes Fondation- Student Film Competition 2011 y en el Festival Internacional de Cine de Jerusalem como parte de la Competencia de Cortometrajes. Desde entonces ha sido exhibida en diversos festivales de cine y ganado los premios a Mejor Actriz y Selección de la Audiencia del Festival de Chipre 2011.
Comentarios sobre Martha Must Fly en el Festival de Cannes
Could a happy ending ever be an option for an Israeli movie?
      The Israeli presence at this year's Cannes Film Festival is quite strong. Joseph Cedar's Footnote is in competition for the Palme d'Or, and Hagar Ben Asher's The Slut will be screened at the Critics' Week. Anat Costi's On My Doorstep and Ma'ayan Rapp's Martha Must Fly are both selected for the Cinefondation. Elad Keidan, a former winner of this student films competition with his lyrical short Anthem, is also returning to the French Riviera in the programme called L'Atelier, where he will try to raise funding for his project Of Our Economical Situation. This is indeed a big success for a country that produces no more than an average of 20 feature films per year.
As the two films selected for the Cinefondation prove, this surge of new talents in Israeli cinema might find its roots in the quality of the educational institutions. The Sam Spiegel Film & Television School in Jerusalem, established in 1989 as the first Israeli school dedicated specifically to filmmaking, has the best track record in awards at festivals among all film schools in the country. Dana Shahar, director of International Relations, told us the school selects 25 new students every year and pursues a story-centred approach to filmmaking. The main goal is to adopt short films as a legitimate film genre. Renen Schorr, director of the Sam Spiegel School, insisted during a speech in New York that they are supporting films not only relevant for the filmmaker, but for the audience as well. The school's teachers are local film industry professionals, including Eran Kolirin, director of the local blockbuster The Band's Visit which also won three awards at the 2007 Cannes Film Festival.
The other most respected film institution in Israel is at the Tel Aviv University. Ma'ayan Rapp, the director of Martha Must Fly, thinks that the main difference between Tel Aviv University and the Sam Spiegel School is that the former is more like a regular university, with many more students and a stronger focus on theoretical studies. She believes it is easier to make films at the Sam Spiegel School – the proof is that, in order to make Martha Must Fly, she actually relied on her own family's money. Ma'ayan Rapp and Elad Keidan agree that it takes a lot of time and patience to receive support from funds in Israel.
Asked about the most common subjects in Israeli movies, Elad replied that the many conflicting points of view come from the complicated relationships between the national (Israeli), the ethnic (Jewish) and the political history of the country. Israel's very special situation shows in the country's cinematic output, and that is why Israeli movies struggle to develop a more universal meaning. The director hopes that the Israel-Palestine conflict will be solved through an agreement on their common historic ground.
Like the State itself, Israeli cinema is looking for possible ways to solve arising problems, but eventually politics and art seem to find completely opposite answers. As Eran Riklis' Lemon Tree shows, the very same lot of land could be viewed as a terrorists' hideout, or as a stronghold of ancestral traditions, according to the different points of view. Despite the obviously different interests, Israeli movies are not trying to use anyone as a scapegoat. Omri Givon's Seven Minutes in Heaven is about the sensitive topic of terrorist bombings – yet the movie never tries to blame anyone, as its aim is clearly to find the way to a reasonable life after surviving a suicide bombing. Ajami (Cannes 2009) takes another step forward on the long path of mutual understanding, as it portrays a multiethnic district of Tel Aviv, where Palestinians, Jews and Christians are living together.
Anti-military movies are quite common as well, even though the State's well-organized army is often said to be the key of Israel's survival in the region. Yaniv Berman's The Alpha Diaries never fails to reveal the fears and vulnerability of a living and breathing people beneath the bulletproof military uniforms. Waltz with Bashir (Cannes 2008), probably one of the most important documentaries of our times, presents its content through animation, in order to find new ways of dealing with well-known topics. Israeli cinema admittedly encapsulates what national cinema is all about. A new generation has already emerged, thanks to the ever-growing number of awards received at film festivals. We now could only hope that in the near future these filmmakers will rise even higher, and find reasons to even include happy endings in their films. Maybe it will start with another victory, perhaps this year in Cannes.
by Levente Czehelszki (Hungary)
Rypp también ha recibido el premio al Director Más Prometedor del Festival de Cine de Mujeres de Rejovot, Israel en 2011. Además de su trabajo como directora de cine, Maayan trabaja como diseñadora de arte en películas y producciones de teatro y música. Recientemente ha completado una residencia de  4.5 meses en Paris otorgada por la Cinefondation- Cannes Film Festival y actualmente está desarrollando un guion para el filme 'The Other Widow" (La Otra Viuda) con el apoyo de la Fundación Rabinovitch de Israel.